Astrology of Emphysema
Astrology of Emphysema,
Emphysema astrology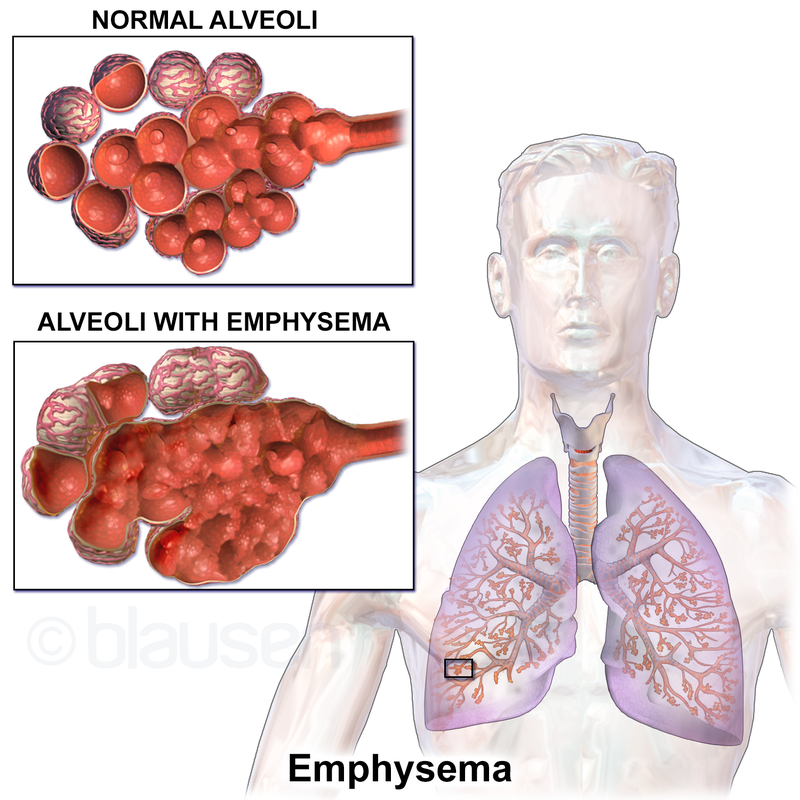 Emphysema is a long-term, progressive disease of the lungs that primarily causes shortness of breath due to over-inflation of the alveoli (air sacs in the lung). In people with emphysema, the lung tissue involved in exchange of gases (oxygen and carbon dioxide) is impaired or destroyed. Emphysema is included in a group of diseases called chronic obstructive pulmonary disease or COPD (pulmonary refers to the lungs). Emphysema is called an obstructive lung disease because airflow on exhalation is slowed or stopped because over-inflated alveoli do not exchange gases when a person breaths due to little or no movement of gases out of the alveoli.
Emphysema changes the anatomy of the lung in several important ways. This is due to in part to the destruction of lung tissue around smaller airways. This tissue normally holds these small airways, called bronchioles, open, allowing air to leave the lungs on exhalation. When this tissue is damaged, these airways collapse, making it difficult for the lungs to empty and the air (gases) becomes trapped in the alveoli.
Astrological pointers
3rd house/lord and Mercury
4th house/ lord  and moon.
Saturn for wasting and degenerative diseases it is also a major cause in lung related problems .Saturn is also blockage in medical astrology.
Planet mercury- For respiration and related problems.
| | |
| --- | --- |
| SUN | BONES, RIGHT EYE, SIGHT, HEART, STOMACH |
| MOON | MIND, EMOTIONS, BODY FLUIDS, LUNGS,LEFT EYE, SENSE OF TASTE, BREASTS, CHEST, LOINS |
| MARS | MUSCLES, HEAD, TESTICLES, BONE MARROW,  BLOOD PRESSURE, BILE , VIGOUR |
| MERCURY | SKIN, SENSE OF SMELL, MEMORY,  INTELLIGENCE, SPEECH,  CONSCIOUSNESS, RESPIRATORY CANAL,INTESTINES, THROAT |
| VENUS | SEMEN, SENSE OF TASTE, SEXUAL ORGANS, REPRODUCTIVE SYSTEM, FACE, BEAUTY OF EYES |
| JUPITER | FAT, LIVER, GALL BLADDER, SPLEEN,  SENSE OF SOUNDS, EARS |
| SATURN | SENSE OF TOUCH,  NERVES, JOINTS  (INCLUDING SPINE), LEGS, KNEES, ANKLES |
| 1ST HOUSE | HEAD, BRAIN, HAIR, APPEARANCE |
| 2ND HOUSE | FACE, RIGHT EYE, NECK, THROAT, TEETH, TONGUE, NOSE, MOUTH, SPEECH, NAILS |
| 3RD HOUSE | EARS, RIGHT EAR, LUNGS, SHOULDERS, ARMS, HANDS, UPPER PART OF EUSOPHAGUS, CLAVICLES, MOBILITY |
| 4TH HOUSE | BREASTS, CHEST, LUNGS, HEART, DIAPHRAGM |
| 5TH HOUSE | UPPER ABDOMEN, STOMACH, LIVER, GALL BLADDER, SPLEEN, PANCREAS, DUODENUM, MIND |
| 6TH HOUSE | INTESTINES, DIGESTION, ABSORPTION, APPENDIX, LOWERBACK, INJURIES, WOUNDS, MEDICAL TREATMENT |
| 7TH HOUSE | URINARY TRACT, KIDNEYS, SEXUAL ORGANS, UTERUS, OVARIES, TESTICLES, SEMEN, LOWER BACK |
| 8TH HOUSE | EXTERNAL GENITAL ORGANS, ANUS, PERINEUM |
| 9TH HOUSE | HIPS, THIGHS |
| 10TH HOUSE | KNEES, JOINTS, LEGS |
| 11TH HOUSE | LEFT EAR, CALVES, ANKLES, LOWER LEGS |
| 12TH HOUSE | FEET |
Example chart-

Lagna lord and 4th is debilitated ,3rd lord is with 8th lord moon under aspect from Mars and rahu . 6th /11th lord venus is with mercury the significator of respiratory problems .Moon the natural karak of 4th and representing  chest,lungs areais afflicted,mercury significator of respiration is with lord of 6th and 11th Venus . In this chart 4th lord is debiltated,3rd is under malefic effect ,moon is afflicted,mercury is with 6th /11th lord . This all indicates problem in chest /lung area.The native of this chart a war hero died of Emphysema.
Bhav chalit  chart as given above further hints to the planet behavior as the RKA shifts to 4/10,mars and sat  excert malefic influence on 6th lord Venus and mercury .